Here at Noa & Nani, we love kid's themed bedrooms and think they create an immersive and comfortable environment for little ones to learn and grow.
This is why we have put together many theme guides in the past to inspire our readers with hints, tips and advice on how to bring children's themes to life. Plus, with our wide range of children's bedroom furniture available in a plethora of designs and styles, you can find all of the furniture you need to create your child's dream bedroom.
But if you're not sure what kids' bedroom theme to choose, then it can be difficult to get started. Find the inspiration you need in our top 5 kids bedroom themes, where we have put together a quick breakdown of the most popular themes you can achieve.
Table of Contents
1. Safari Theme
We love a safari theme for children's bedrooms as it is bright and colourful, perfect for stimulating little minds. Plus, a jungle backdrop makes way for all kinds of imaginative play and storylines.
Boys and girls of all ages love the wild theme, and so we recommend choosing a safari theme for younger children as they can mature with the theme without growing out of the design. The way your child interacts with the safari theming will evolve as they grow older. Younger children will focus heavily on the love and care for animals, and as they grow older, their focus will switch to adventure, discovery and action side of play.
Plus, the green tones, outdoor theming and nature designs will help to create a calming atmosphere for your children. So, even when they are not in the midst of play, they will feel serene in their surroundings, ideal for switching off on an evening.
Explore our guide to creating a children's safari and jungle themed bedroom online.
2. Nautical Theme
Like the jungle-themed room, a nautical theme is another great way to create a calming room design. Plus, boys and girls of all ages can enjoy and appreciate this muted decoration style that can be as subtle or creative as they choose.
Nautical designs have grown in popularity as they can encompass a vast range of play and imaginative scenarios for your children.
Whether your child prefers lifelike play, such as fishing or sailing, or they prefer fantasy and adventure, like pirate or mermaid play, the nautical theme can be adapted to meet all of your children's requirements.
For inspiration in creating a nautical themed bedroom, explore our guide online now with all the hints and tigs you could need.
3. Fairytale Theme
Ideal for the little princes and princesses in your life, choose the classic fairytale theme for your little one's bedroom. From a backdrop perfect for all kinds of play to a cute aesthetic every little one will love, fairytale themes can be a lot more versatile than first assumed.
Your kids' fairytale themed bedroom will transport your little ones to castles guarded by dragons, mermaid lagoons and fairy meadows. So, by choosing a fairytale design, your children's room will evolve with little minds as they cycle through interests. Whether they're unicorn mad one month or leaning more towards magic and potions the next, you can make sure their fairytale bedroom is equipped to host it all.
Plus, with simple additions in soft, light colours and cute accessories, a fairytale themed bedroom can grow with your children throughout the years.
Find out how to create fairytale and princess themed bedrooms in our extensive guides available online now.
4. Pirate Theme
If you're looking for a kids bedroom theme that's the opposite of the whimsical fantasy of fairytales, then a pirate theme might be the perfect option.
Encouraging adventure and discovery, a pirate theme is a great way to get your little one's out of their shell and dive into their imagination. Immersive play is made easy to achieve by transforming their rooms into a world of pirate adventure. From sailing the seas, hunting for treasure and battling sea monsters, we recommend a pirate theme for younger children who can enjoy the theming throughout their childhood.
Pirate themes are also a popular choice as they encompass a rainbow of colours and design styles to suit every preference. So, even if your child does outgrow the pirate theme quicker than expected, the design can easily be repurposed or updated to suit more styles.
Look for inspiration for a pirate-themed bedroom in our extensive guide filled with hints and tips.
5. Action Theme
Last but by no means least, we have an army themed bedroom that inspires your children to take charge and look for adventure.
An army theme is perfect for little ones obsessed with action figures and adventure and creates an immersive backdrop ready for all kinds of scenarios and play. Plus, the subtle and muted beige and green tones associated with action and adventure are timeless, ensuring your decor choices can grow with your children.
We also think that action-themed kids bedrooms are one of the easiest to achieve and update as the simple addition of netting and tents can create an immersive experience that doesn't have to be permanent.
Inspire your kids to take on a new adventure with army themed bedroom tips in our detailed guide online now.
Are Children's Themed Bedrooms a Good Idea?
Now that you have explored our top five kids bedroom themes make sure that you are confident in your design decision. After all, it is clear that these themes are big design choices and can not be easily changed or redecorated in some cases.
Before diving into the decorating, consider choosing non-permanent additions that can be removed or updated. For example, a bed tent is a great way to elevate any theme, but it can also be easily removed or swapped as your child's tastes change.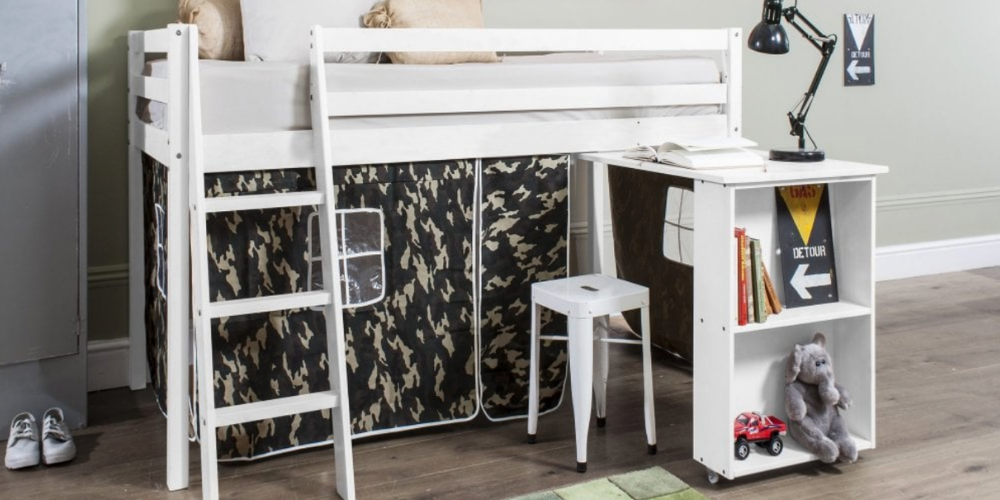 Creating a Kids Themed Bedroom: Next Steps
Now that you have been inspired by different kids themed bedroom options, it's time for the fun part.
Explore our collection of children's bedroom furniture and accessories online now to help you get started. Plus, look for more practical advice in our guide to setting up a children's themed room also online now.