If your little one has been begging for a chance to decorate their room or want a way to make their bedroom more 'grown up', then here at Noa & Nani we have plenty of exciting ideas. Whether you're redesigning their room for the short term or long term, there are so many ways to decorate a child's room for an attractive finish, ensuring they'll want to more spend time there!
Children's Box Room Ideas
Many youngsters will have a small room to deal with when it comes to sleeping and playing, so researching space-savvy children's box bedroom ideas can help when it comes to making use of the room effectively. The best way to make a box room work better for your child is to invest in a classic cabin bed. Cabin beds for small rooms can make so much difference due to the extra storage space underneath – not to mention, they can be so much fun!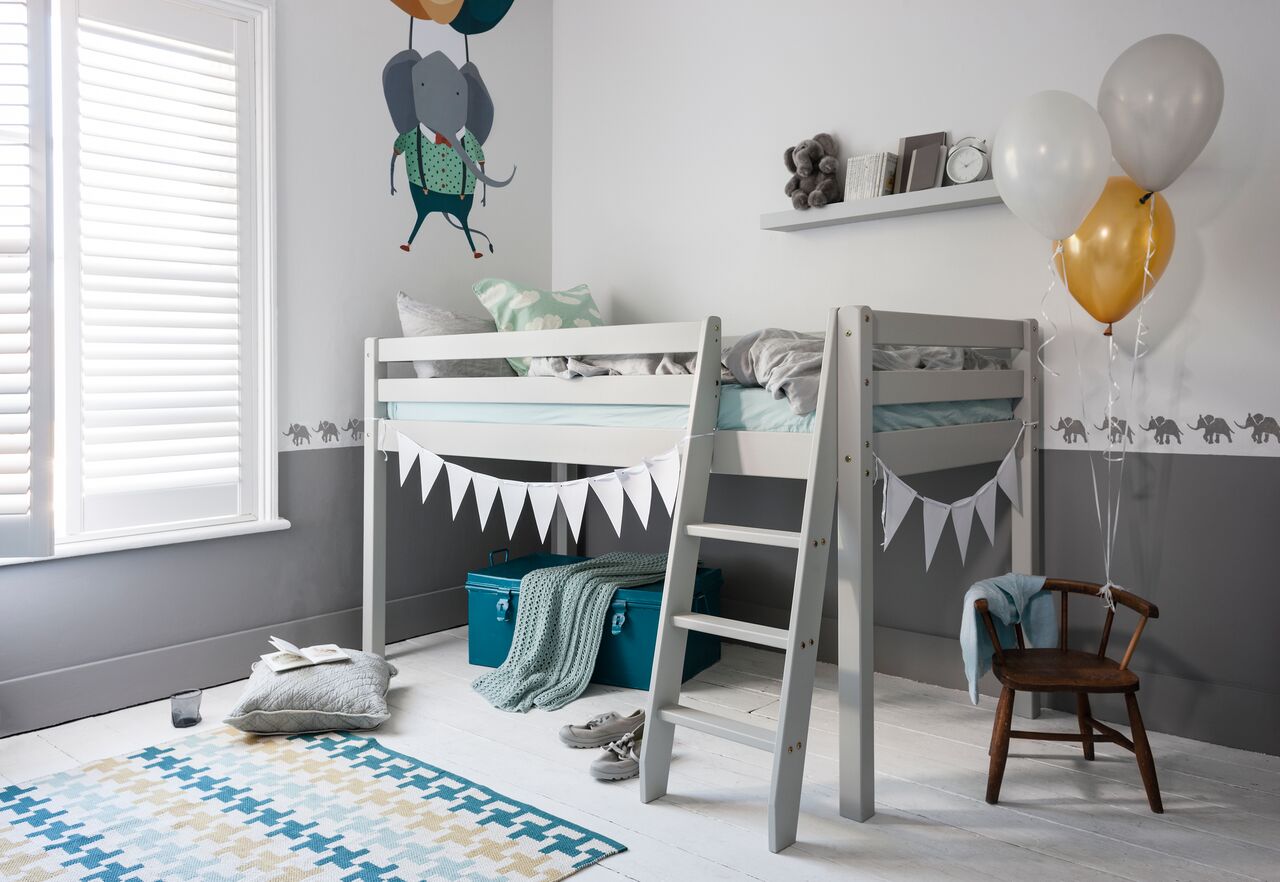 The Noa & Nani cabin beds for kids can provide the perfect place to play, relax or study in the space directly beneath the bed itself. Teens can enjoy the practicality of being able to do their homework in peace and quiet, in their room on the desk below their bed. Little ones (and parents!) can take pride in the ample storage space provided with inbuilt drawers and cabinets, keeping the minimal floor space clear of clutter. Cabin beds with ladders for small bedrooms is a fun way to give your child a fun way to tackle bedtime, promising an engaging way to spend time in their room.
Themed Bedrooms
Creating a space your child will want to both sleep and play can be tricky, so what could be more fun than going to sleep in a bedroom designed around your favourite interests? Little boys and girls will love having a themed bedroom with accessories, wallpaper and bedding focused on their much-loved character or hobby. Our range of cabin beds with tents offers an exciting selection of fairytale designs with a tower for the princess, cute fairies and even the ever-so-popular Hello Kitty!
Playful pirates can jump aboard their pirate ship themed bed and sail off to sleep in style with our cabin beds suitable for small bedrooms. Choose a colour palette to reflect the theme, apply fun decals or art to the walls and add themed bedding to ensure their box room is where they will enjoy spending time independently.
Modern Bedroom Decor
If you're keen to echo a modern look throughout your home and stick to neutral design elements in your child's box room, this can be easily achieved with a few key decor considerations. This neutral design can work well in a bedroom for an older child or when children are sharing a bedroom with bunk beds to satisfy both tastes (and avoid arguments!). A monochrome colour palette with accent colours can really give a bedroom a contemporary refresh; think Nordic inspired white and shades of grey for bedding and curtains or blinds, with mustard or navy accessories for a pop of colour.
Coordinate bedroom furniture for a uniform look by opting for white bedroom drawers, beds, shelves and wardrobes. Our collection of bedroom furniture is a great place to discover sleek furniture options that are versatile enough to work with many decor possibilities through the years and changing tastes.
We hope that our children's bedroom ideas have sparked inspiration on how you can decorate and transform their room with a well-designed cabin bed and further accessories. View the full ranges of midsleeper cabin beds at Noa & Nani and our bed tents to change up your child's bedroom and impress them with a new look!